Introducing ChessMovePro, the all-new powerful move calculator that lets users find the best move in seconds! The app calculates the best lines using powerful dedicated servers running the Stockfish 15.1 engine in the cloud.
Best next move calculator app
With Chess Move Pro, you can

Get suggestions for the next best move to play

Analyze your current position and see a breakdown of the strengths and weaknesses of your position

Explore different variations and see how they play out

Improve your chess skills and strategy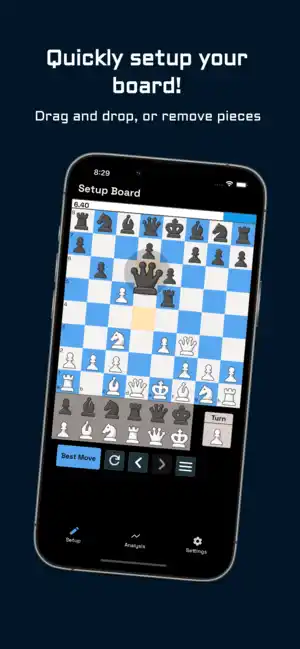 An easy to use chess move calculator
Whether you're a beginner looking to learn the basics or a seasoned player seeking to refine your tactics, Chess Move Pro has something to offer you.
For users on the go, ChessMovePro offers a wide variety of customizations that allow users to find the best move quickly. Users can set up their board by dragging and dropping pieces onto the setup board to match the app to their current board position. Next head over to the analysis screen where you can see the best moves and lines at a glance. Customize the engine preset in order to increase depth, get more lines, change the elo target or increase think time.
What Customers Say About Us.
App is SUPER seamless and easy to use. Never seen a more straightforward chess app in the store. Developer was also very quick to answer any questions or concerns. Very reliable.
This app helped me out when I was playing an online game with my friend. Would recommend to anyone looking to find the best moves!
Great Developer He was able to quickly respond to my messages and respond to my suggestions. Would recommend this app to any chess players.
This app works exactly as described. Enables the user to calculate the best move in any given situation. If I could leave 6 starts I would!! ⭐️⭐️⭐️⭐️⭐️⭐️